Anitea Taylor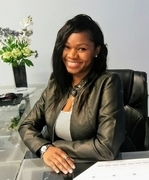 414-349-5543
414-481-1745 fax
414--349-5543 cell phone

ataylor@maprealtygroup.com
2473 S Howell Avenue
Milwaukee WI, 53207
Receive Email Alerts from Me
My name is Anitea Taylor, I am a real estate professional in the Greater Milwaukee and surrounding areas. I've lived in the area my entire life, so I'm very familiar with the different communities in this great city! I love the direction that the city is moving in and the positive effect that it's having on the housing market. What a great time to live in here!

My clients appreciate my fun loving and relaxed demeanor. They refer me because I provide great customer service, consistent communication, strong attention to detail, and constantly ensuring a positive experience for all parties in the transaction. My approach to any transaction is this, "it is about the client, not the agent". I know what it takes to successfully close a transaction making the buying or selling experience positive and seamless.
Please call me anytime without obligation. I am always ready to start working for you!
"Dedicated to providing each client with the highest regard of knowing that selling or purchasing a home is precious. You can always expect my full attention and acknowledgement to any inquiries you have followed by a professional and courteous response."
Realtor/Associate Broker

Multi-Million in Sales Club

Full Time Real Estate Professional

Member of Greater Milwaukee Association of Realtors®

Member of Wisconsin Realtors® Association

Member of National Association Realtors®
Anitea Taylor 's Listings
Courtesy:
MAP Realty Group LLC
#1802688 | Multi-Unit Residential
Courtesy:
MAP Realty Group LLC
What my clients are saying….
I am so thankful that I had the chance to work with Anitea. She was more than patient with me. I think she is extremely knowledgeable, caring, and helpful. I was so nervous about becoming a homeowner, but with Anitea guiding me I felt truly at peace.
Narea Wagner
April 28, 2020
Anitea was an awesome realtor. It didn't matter what time it was, she responded. Even if I had notified her about a house i would like to see in the late evening, she always made sure we were able to get in and see a house as soon as the next day or two. She always made sure we were comfortable and offered feedback along with comments to help us make a decision. Her team is very knowledgeable and friendly. I would definitely go back to her and i've recommended her to everyone i know!
TL
April 23, 2020
It was a pleasure working with Anitea. She was very professional and was always available when I reached out to her. She is a awesome person and realtor. And I will definitely be recommending her to others who seek buying a home. Thanks for all your help Anitea.
Tisha
April 23, 2020
I recently worked with Anitea Taylor on the purchase of our mutual client's new home and I must say it was truly a pleasure! She was always quick to respond when I needed something for underwriting and I always felt she genuinely cared about the client. I will definitely call her when I have someone in need of a realtor and I am very much looking forward to working with her again! Thanks Anitea!
Angelica Mia Rodio NMLS# 1120182
April 23, 2020
My experience was great with Anitea she sent me to the right people to get my loan done she made something that could be so stressful a good experience and she made sure we made the right decision on the home we loved by providing everything me and my wife asked for and she was always available thank you again Anitea.
Randy
April 23, 2020
My experience with Anita was short she worked around the clock to get me in a home that fit my budget. She worked hard for me said I were purchasing a million dollar house. I really appreciated the work that she done for me helping me buy my first home.
Dee
April 23, 2020
Anitea was very professional in all aspects of dealing with a real estate transaction. She knew the market and was very responsive to my family's needs. I would highly recommend her to anyone looking or selling a property!
Heath Peterson
April 23, 2020
I worked with Anitea on the purchase of my first home. It was an extaordinary experience with ups and downs. Through all of the frustrations Anitea was there to offer her guidance and expertise. I am thankful to have worked with such a diligent realtor. Thanks Anitea, I love me new home!!!
Re Re
April 23, 2020
Anitea Is very Professional. She goes over and beyond for her Clients. She gives you her honest opinion when looking for a house. This was my first time buying a house and she let me know what to look for and you can tell she really loves her job. I would be pleased to work with her again in the future.
Lex
April 23, 2020
Anita was always there for me at any time when I needed her to answer any questions or view a house at the last minute. She helped out a lot, Anita is very professional also is a nice person in general and I would recommend her to anyone who is looking to buy a new home. She made a very stressful process very manageable.
C. Morgan
April 23, 2020
This was my first home and I chose Anitea based on our initial meeting. Anitea seemed to love her job and to be a person who went after what she wanted and with that I felt she was definitely the best person to help me do just that. There were many times I thought I'd never find the home I wanted, however Anitea would tell me after also every showing that we'd find it and I'm so happy that we did. Even after purchasing my home I've called on Anitea for advise or concerns and she's never hesitated to walk me through these things.
Niki
April 23, 2020
My husband and I decided to request information on a property late one evening. We weren't expecting to hear back until the next day or even the day after that. You can imagine our surprise when Ms. Taylor contacted us within minutes! She was able to answer all of our questions and set up a showing. We loved the home and are set to close next week. She's made this complicated process painless. I appreciate how knowledgeable she is and the convenience of the electronic filing and signing. I can't say enough great things. If you're looking to purchase or sell a home in the near future, call her!
KatrynaandJerry
April 23, 2020
Anitea was very helpful, knowledgeable, and personable. It was a pleasure working with her even though I lived out of state she made my buying process less of a headache!
Mary
April 23, 2020
Anitea was very professional and patient with helping us find our first home. She is very knowledgeable with every area of reality. It was our pleasure working with Anitea and we will highly recommend her with our family and friends.
Timothy Mitchell
April 14, 2020
Submit your review here....